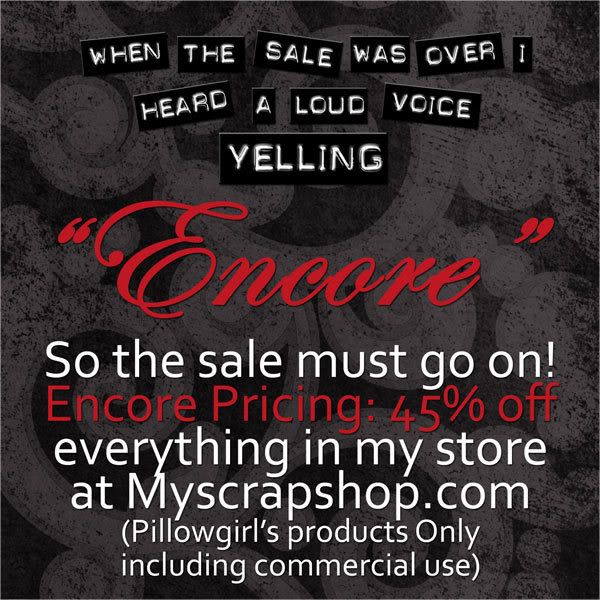 Get 45% off at this special Encore event. I'm out to save you some money, seriously ;)Click on the ad above to go to my store.
Now an update on life...
I bought a new couch, a new desk, a new chair, and a set of nesting "trunks" today. So it meant overhauling the entire living room of our apartment.
You should understand, this was a big first for me. Every couch I have ever owned was a hand me down or a gift, and the futon we were sitting on was 10 years old. I have always been too chicken to go spend any money on a living room that I actually would want to "live" in. Don't ask me why. But now that I have 93 inches of beautiful microfiber to relax on, I might never get off it again. I am trying to figure out how to get my desk in front of it hehe.
The desk was a downsize in a big way. I bought a tiny workstation and got rid of a clunky beat up particle board desk I have been using for years. It was originally my husband's. Then we gave it to my mom. Then I eventually somehow ended up using it. Again, a hand me down. Again, about 10 years old. And it was falling apart on me. So now I have a little modern looking workstation with no room for clutter, and I am minimizing. But, the nice microfiber "ergonomic" chair makes up for it. I don't care what kind of desk I have, as long as I get this ubercomfy chair.
So anyway, my day was a busy one. I will take pictures and post them. Maybe tomorrow. For now, I am going to go spread myself across that 93 inches of microfiber and enjoy a movie before bedtime. Nothing like a hard day of moving furniture to make the furniture feel even more appealing.