At long last, here are a few more installments to my latest series. First, some patterned papers you are sure to love. These papers will mix and match beautifully. They all have some form of pattern or texture to them. And they will match all of my freebies for the next short while as I am IN LOVE with these colors.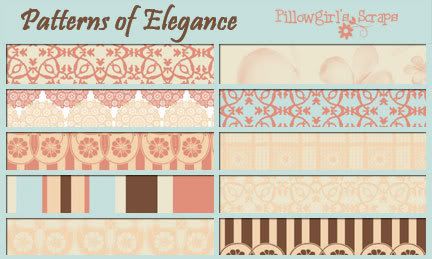 Download the Patterns of Elegance Papers here

I also found that I am in love with wood today. I sat down and made you some pretty wooden embellishments, frames, and labels for your layouts. I especially love how the two frames turned out. I hope you do too!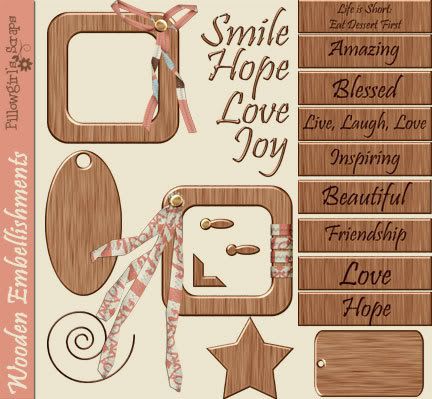 Download the Wooden Embellishments here.
Tomorrow, ribbons, bows, and some more miscellaneous stuff. For today, enjoy these parts of the series!
Updates on Life:
My mom is getting better. So far she seems a little better every day. She has quit smoking since she had her stroke, and has even cut pepsi out of her diet. My sister spends the day with her here at our house while our household goes to work. Luckily she has the week off of work. Mom has a therapist coming over tomorrow to help her keep working on her physical therapy to regain the full use of her legs and her right arm.
I am starting to really consider selling some of my digital scrapbook designs. It would be neat to be able to say, "I did that" I suppose. I am a freebie designing mama and always will be, but it would help to cover the costs of my storage and stuff. Also, I really want to someday afford to buy Photoshop CS2 or CS3... I hear it is the Cat's Pajamas.
So you read this far? How about if you click on the link and leave me a comment? Tell me anything, about your day, about your car, about your job, or just that you downloaded this stuff :)