First let me say that today I will be blogging a few times. I have the day off to myself and lots of things planned for this blog, which I have been sorta putting last on my list lately. I apologize, but with the hullabulloo of moving, getting new designers at MSS, and my day to day life, I have been ZONKED.

Now that the disclaimer is over...

Today is a pretty neat day. Today is the day I go pay my first normal rent payment. We have officially been here a month and are all settled in. And I still haven't shown you pictures! I just unpacked my camera this morning, if you can believe it, and I have it on the charger... so you should get some pictures later today. I want to take a little walk with it and show you around the neighborhood too... there's some neat stuff to do here! And remind me to show you my new spice rack, I love being all domestic.

Other updates...
I have been home sick for 3 days this week. I went to the hospital last Friday with symptoms of a stroke and it seems that things are getting worse. My sarcoidosis has it's clutches on my brain again and has really taken a good clawing at it this time. What does that mean? Who knows. My dang doctor can't see me until June. So I am just taking it a little easy when I can and that meant taking a few days off work to try to get my system back in order. Now don't worry about me, I just want to tell you all so you know why I am sometimes a little incoherent when you try to chat with me on Hello :) (Which I love when you do, so ad me to Hello if you have it, I am Pillowgirl there too)

My Scrap Shop has been such a blessing to me. I have met so many wonderful people through the site and am so glad that I had the courage to do it. You all make my days so much brighter :) Through the gallery I have gotten to know so many of you without ever even meeting you. Your layouts often show me that I am not alone in this world and there is a beautiful world to see out there. And beautiful people full of hopes and dreams that seem so in line with mine. I am a sappy PITA, eh?

Today I posted the Design a Kit Challenge at MSS. The theme is Spring Weddings, Beginnings, and Life. I love the spring because it really does bring a whole new attitude to the world. Hope your spring is starting out beautifully! Mine has been full of new beginnings, exciting rebirth of energy and spirit, and rekindling of my relationship with my family.

Here's the palette... come join in the fun of designing a great kit to commemorate the beginning of the Spring.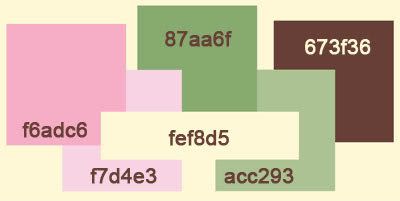 Also, my good friend, SKrapper Digitals, is having freebie mayhem lately. Every day she posts something new on her blog. The past few days they have been gift bags from her products she sells at MSS, and man they are incredible. If you are a freebie hunter, put her on your list of places to stop. These are quality freebies from one of my favorite designers, and I know you won't be disappointed. Tell her I sent you?