I want to start out by saying THANK YOU to everyone who has been shopping at
myscrapshop.com
this week. The tremendous support that I get from my scrapbooking friends is such an honor to receive. With your help, I am so much closer to my goal of moving... I can almost allow myself to really look forward to it. So much, in fact, that I went out apartment hunting today so I can start visualizing myself in a new place. And I already found one that I just totally love. It has an indoor pool too, so even though I can't go outside in the sun, I will be able to take Maia swimming! I am crossing my fingers.
It's funny how a few days can totally change your outlook on things. Last week, I was stuck in a rut, feeling like there was no end in sight to this negative space I am living in. And this week, wow, I really am starting to feel like this is going to happen, and we are going to find the money and the resources to get moved out of here soon. Probably not as soon as my husband would like, but soon enough. (Of course, who would want to live with their mother in law?)
Anyhow, I have been sitting down and letting myself do a little designing here and there... I made this little mini for you. I called it Spring Will Come, because I feel like things are getting better and life is starting to show the possibilities of new things to be born for me. I used some incredible designer commercial use roses to make a few of the elements. Thank you to
SKrapper Digitals
, they are unique and super versatile. I want more of them. These are in the store at
My Scrap Shop
, along with all her other fun commercial use products.
Here's a preview of the freebie: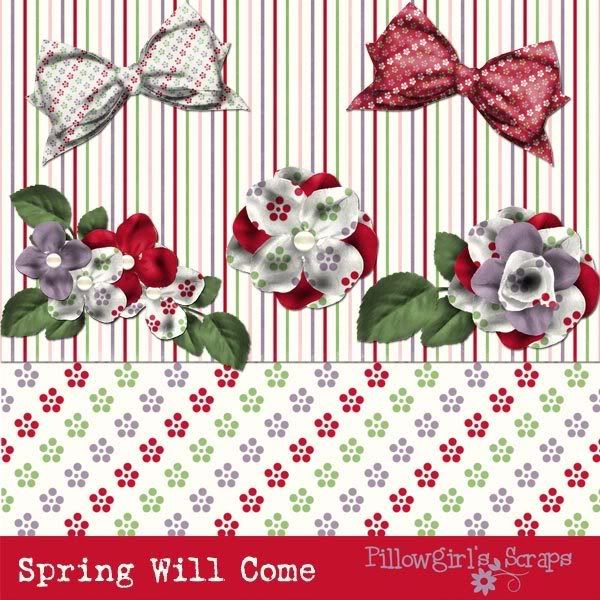 And don't forget, you can get ALL MY STUFF for $50 at http://www.myscrapshop.com/ and the proceeds will continue to go directly to my Moving Fund.