Today I sat down and made 18 striped cloth ribbons with 18 matching bows! These have such a great texture to them and will coordinate with any of my Essentials collection. Of course, with all this color you are bound to find a kit or ten out there you can also coordinate them with. Try mixing with some of my other bows in this color scheme as well!

I split the download up into two so you can get just the bows or just the ribbons if you like. The links are below each preview.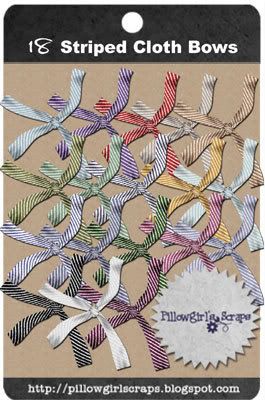 Download Bows
Download the Ribbons
Mom came home today. For those who have not read any of my posts from this week, she had a series of strokes on Sunday and has been in the hospital since. She is a bit slow, has some speech problems, and has a hard time getting around... but she is HOME!!! YAY!!!