So do you have a handy guy in your life? I sure do. He asked me to make some more "Manly" stuff for him, and he likes my elements when I make them from scratch... so I put together a little bundle of tools. I will be making a whole kit of this kind of stuff, but it is a slower process when I am trying to be all precise for him :) Here is a set of 3 basic tools that every man has in a box, belt, or drawer somewhere.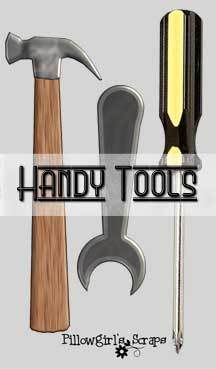 I know my blog posting has slowed down a little this little while. I have been uber-busy, helping around the house with my mom and chasing Miss Maia. I have been designing, but not finishing, so be prepared for sometime when all of the sudden my designs just EXPLODE onto the web :)
About the Quickpage Challenge
Someone asked me if there is a deadline on entries. Let's shoot for 2 weeks from today. That gives you plenty of time to try a few if you want, or to really focus on one really good one.
Some hints on making quickpages... What I do...
- Make a real layout. Use a photo you would normally use in a layout as a place holder.
- Highlight your photo layer and delete the photo shape entirely. Then delete that space in all of the layers below it, leaving a transparent hole.
- Merge your layers
- Save it as a PNG.
This should make a simple quickpage. There are lots of tutorials out there if you google "Quickpage Tutorial"