I am still winding down from the excitement today at MSS. We had an AWESOME turnout for our chat. Trish says there were over 40 of us in there all talking at once lol.

We gave out some great prizes, but even more exciting... we turned on our New Releases in the store, AND they are on sale for 20% off until 11:59 PM Friday (today, but it's still Thursday since I haven't gone to bed yet)

I released a new CU collection that is the biggest ever. And it's got... shimmer, crumples, fun kid stuff, fancy autumn stuff, pretty floral and swishy overlays, and a bonus... and I know I am forgetting something lol. Here's a link to it in my store.



October's Designer Mix is full of great tools! You get 7 full size products, plus a surprise gift. So all told, you get them for less than a dollar a piece. And these aren't tiny full sized products.
Included:
Designer Shapes: 20 unique shape templates, some complex, some tools you will use over and over.
Vive La Glitter: 18 glittered shapes, different from the ones in the shape set. simply recolor them and use them as tools for a kit. Even though there is a lot of glitter on the market, there is always demand for more in kits. These will help you speed up your design process.
Lively Overlays: These 5 overlays are full of fun pattern, and they aren't just your plain "pattern tiled" overlays. These were hand designed to add an artistic touch to your kits.
Grunge Brush and PNG set: 10 grungy brushes, ideal for making grunged edges and overlays.
Cumpled Paper Overlays: 4 new curmpled paper overlays with realistic paper texture. The wrinkles and folds in these overlays really add a worn look, which is great for fall and winter kits.
Autumn Leaves: Recolor these 5 leaves (plus 1 acorn) with a simple color overlay, or add a more complex Clipping Mask overlay and brush on several colors. These leaves are very detailed and have a lot to offer for your autumn designs.
Recolorable Gems: 2 round PNG gems plus one layered PSD file with a gem and several stones around it. You can make this one 2 colors that way.
All told, you get 66 tools in this pack plus the surprise bonus. That's something to write home about. This product will not stay bundled, so please get it early. You won't save this much money on these products for long.
Here's a preview.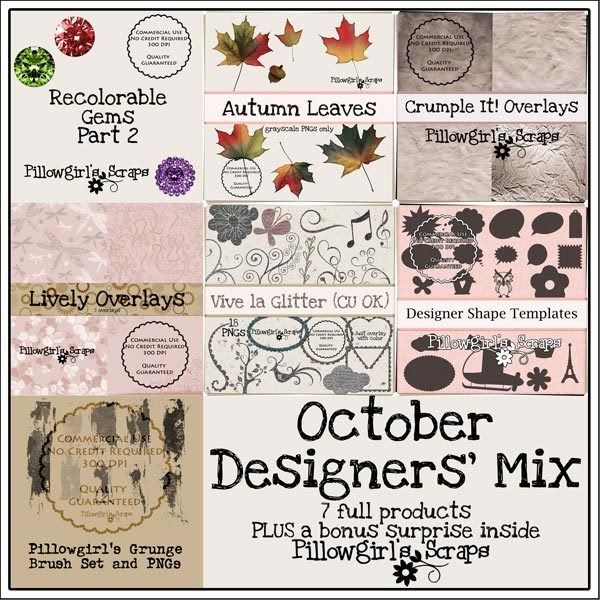 AND... there are more grab bags released tonight for commercial use! Sir Scrapalot, SKrapper Digitals, and Ladybug were all at the chat showing off their bags too ;) All of them, on sale, 20% off. Come stock up quick!