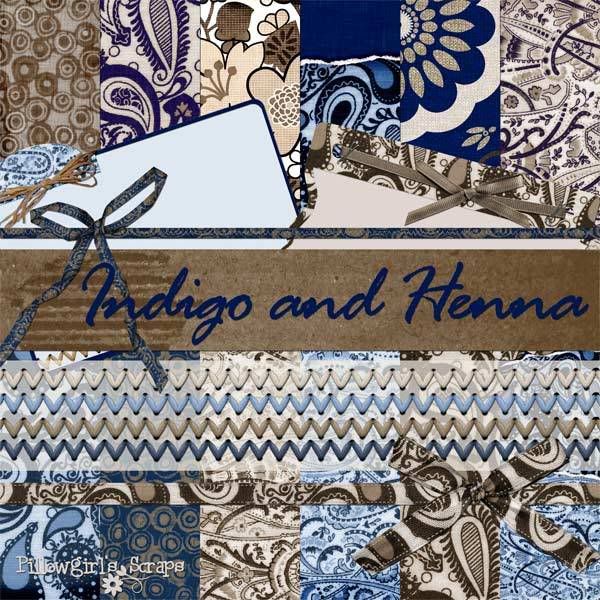 I wanted to share some things with you, and thought, what a good way to make a great kit and show it off, plus teach a few of my readers about the value of some of MSS's great commercial use products. So here is a great kit, Indigo and Henna, that I created using several products available at My Scrap Shop.

Items Used to create this kit:
I have to say, the overlays in Mel's bag are superb. I make my own overlays a lot, but I thought the paisleys she has in this set were especially gorgeous, so I couldn't resist. She also included a tutorial in the download to teach you 3 ways to use overlays. now we all know there are literally dozens of ways to use an overlay, but these 3 are really good and I even learned a trick or two. And you know, I have been around the design block a few times.
And the album templates that Sir Scrapalot has been making (to fit the Cosmo Cricket Albums) are sure cute, popular, and so fun to make hybrid projects with. I think every kit should have something for hybrid folks too. I love the traditional Basic Grey templates I created, but now and then it is fun to step outside of that shape and do something with a little more feminine look to it, since I do have a lot of little girl stuff, and the Abbey template is just fantastic. It also fits great in a purse pocket.
Now I know you all want this gorgeous kit. So here is a link to
get it for free
in my store. You will have to add it to your cart, but it is totally free. Also, it is only free for a limited time. on Monday, it goes up in price. So snag it while you get it free today!