Hi everyone!

I am BURSTING to tell you about the birthday gift we got for Maia hehe. She ended up getting the Disney Princess scooter, because her best friend has a scooter and they constantly are fighting over it so now they can just be friends and scoot around the block together. It's cute. Can't wait to get a camera so I can show you all lol. Thank you Maia, for breaking my camera! We also got her a cute Breaking the Ice game and are planning a trip to the zoo for her and a friend so they can have a little field trip together. I love to give her things, but I also love to give her experiences to enjoy. A trip to the zoo should be loads of fun for the two girls.

And as a thank you for all you do, I have created a mini kit called Bursting to give to you for free! It has some really nice color to it, and I love the little shapes in the pattern.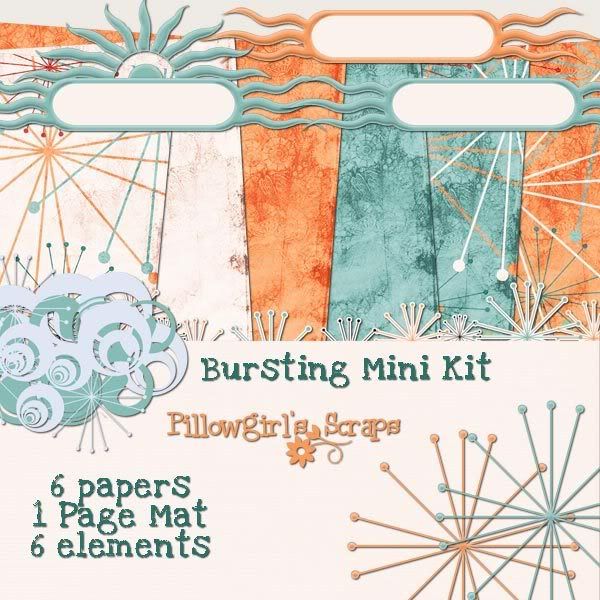 Get this kit at My Scrap Shop for free. All you do is act like you are buying it, but it's free. So you won't have to pay a dime for this puppy. I promise. Click here.

I also want to remind you about some things going on at My Scrap Shop.
1. Daily Downloads! Today, and every day, you can collect a piece of the Daily Download Kit, Bring May Flowers. This collab effort is by the designers at My Scrap Shop. And the kit is gorgeous. You still have time to pick up quite a few pieces!
2. I just added
CU Stash Box 4
, and it's bigger, better, and on sale for one more day. And it's commercial use, but even a non-designer could use this puppy.
3. MCA Designs just debuted their first
Commercial Use grab bag
, and I had to have it! You should too lol, it's a great debut pack. Trust me, the first grab bag for any designer is always the best, and this is no exception.
4. SKrapper Digitals has been bloggin freebies galore again.
Go check her out!
5. Sir Scrapalot graduated, walked the walk, got his papers, and is a free Master of something. Wow. Go congratulate him on
his blog!
6. It's Saturday, scrap your heart out, enjoy your weekend, and come visit the forums at My Scrap Shop dagnabbit.