I don't often sit down and make templates, but this one was cool so I thought I would share it with you. Thanks to ActionFX.com for the shape tool to do it! I love my new subscription to ActionFX. It has soooo much stuff I can use! I love it I do :)



Now, go out, download this cute template freebie, and show me what you make with it! I could use a little "Inspiration" myself.
Tonight, I made my first ever lasagna for dinner. And, thanks to Dreamfields Pasta, it was low carb! I tell you, I love this pasta, I use it for all sorts of stuff. If you are low carb and lovin' life but haven't tried this pasta, you aren't LIVIN'. My coworkers have even ate it at potlucks and not even known that it is low carb lol. And they only invite me to potlucks if I promise to make spaghetti. If they only knew :)
Now you may not know it, but I have been steadily adding products to the shop at http://www.myscrapshop.com/ this week. I added Maia's Garden, which is a huge mega kit with over 130 pieces, all made by yours truly. I also have been adding to the Scrap Bin with more $1 special items. I want you to remember my store is there, but I don't want to seem like a nag, so, tell me if I mention it too much lol.
My latest project: John brought me home a spool of silver wire. He is a welder so he gets his grubby paws on some stuff I would never think to use in scrapbooking and then challenges me to make something out of it. I have been working on some really nice wire stuff and will probably have a whole kit to go with it next. I will have to make some previews for you. I had never thought to use this kind of stuff, even in my paper scrapbooking.
I also want to show you a shaker box that a member of my CT Team, Sarah, made Hybrid style with my products. We are working on a series of tutorials for everyone on some different hybrid techniques and this will be one of them...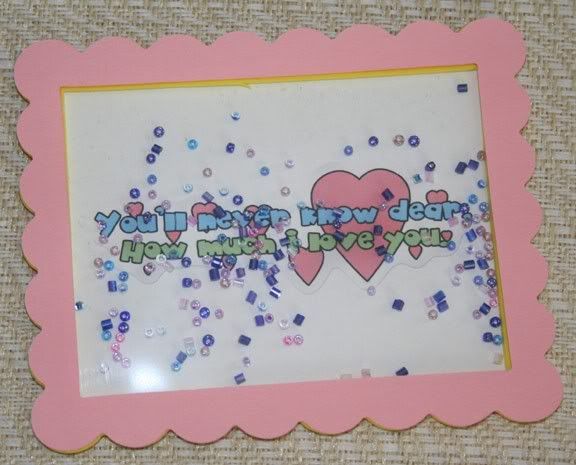 Anyways, this post is getting way too long. Pardon me :) I get chatty now and then. Thanks for dropping by!