I have a lot to CROW about.

I have joined a flock of SAS-y Ladies at Stone Accents Studios and am opening a shop! But this site is more than a store, it's a home for digital scrapbookers of all sorts with a forum, gallery, challenges, and much more coming.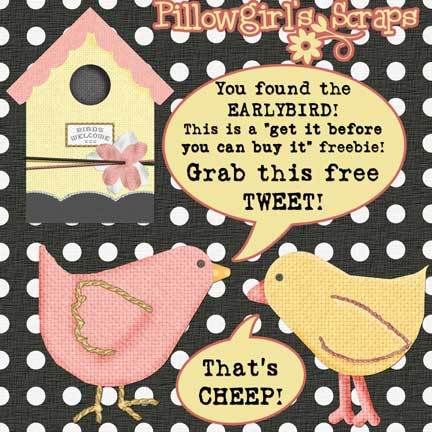 So download this Earlybird Sampler today...it's not just CHEEP, it's free.
Then FLY on over to see what the other designers from SAS have to offer today. They will be adding free TWEETs to their blogs during the day for you, so if they aren't already there, check back often!

These SAS-y Ladies are QUALITY (and SAS-Y) CHICKS!

CanDesigns (aka Mermaid's Haven)
DigiTreats
Julie O.
Kara Perrien Designs
Phreephorm (aka Heather Bostian)
SKrapper Digitals (aka Sherah Kraan)
TerrellS

Please take a moment to pop in to their blogs and give them a congratulatons or word of encouragement (and to get their scrapbooking freebies of course.) Then pop over to Stone Accents Studio and join us in the forums for a challenge and a chat to get some more great free stuff!